The Loire Valley, France
I'm not sure what my first reaction was when I realised that I had to go to a vineyard for harvest in France. I knew it would be a great opportunity for me to understand the wine making process and that it would be a far cry from the city life that I was used to, but I was willing to embrace the change and the experience.
So, I set off for La Possonière (next to Savennières) in the Loire Valley, an area famous for it's dry white wines made from the Chenin Blanc grape. I was going to stay with vigneron M. Loic Mahe (Domain Loic Mahe/ Chateau La Franchaie) and his family, and live his life for two weeks. As it turned out, Loic had a labour sharing agreement with a neighbouring vigneron M. Damien Laureau (Domain Damien Laureau) so, I benefited by learning from both vignerons.
45 minutes after reaching Angers train station, I was out working in the fields of Damien harvesting Chenin Blanc grapes by hand. That was my first hint of what was in store for me. I didn't mind hitting the ground running but my spirits nosedived when it started raining while we were harvesting, and, no, you don't stop harvesting in the rain- you work even faster or the water content in the grapes increases and it impacts the sugar content.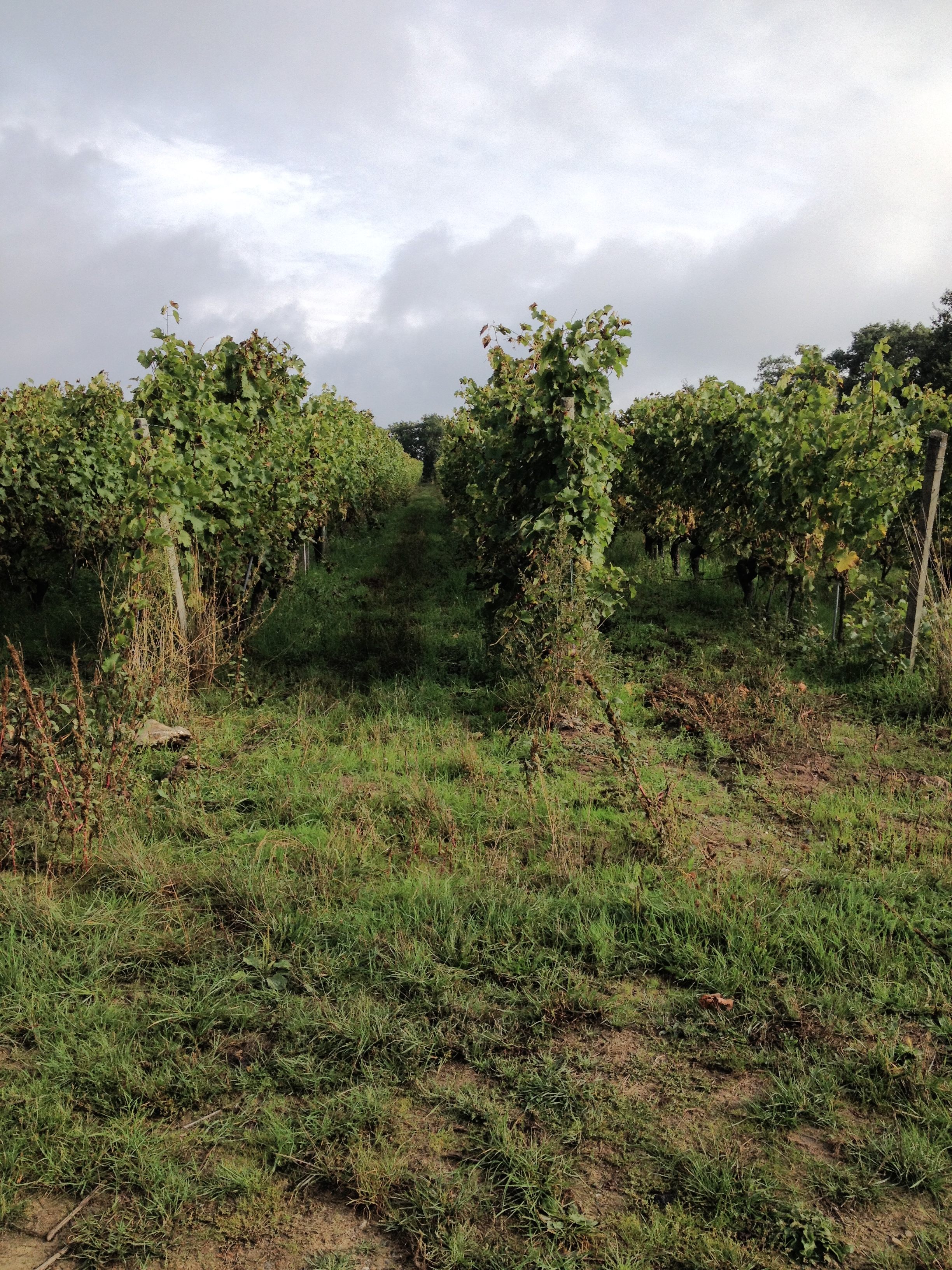 Aside from learning how to make wine, I got to try some of Loic and Damien's excellent wines from the previous year. Damien's Petit Gorgees was the first wine I tried on my first day at work. It had beautiful aromas of sweet honey, white flowers, some acacia and the mineral, waxy notes on the palate were typical of Chenin Blanc grapes from the region. I suspect the wine used some botrytised grapes because of the aromas.
Loic grew both Chenin Blanc and Cabernet Franc grapes on his parcels of land, and out of his many wines, I would strongly recommend the Gourmandise du Gue D'Orger (white) (AOC Anjou) from 2013, the Savennières Les Fougeraies 2011 (white) and the Gourmandise du Gue D'Orger (red).
The Gourmandise du Gue D'Orger (white) is made from slightly botrytised Chenin grapes and has won the gold medal at Gilbert & Gaillard 2015 and the bronze medal at Councours International des Vins Bios 2014. The vines are grown on shallow quartz and the wine itself expresses notes of exotic white fruits, green apple and the hint of botrytis gives it the sweet honey like aromas that I enjoy so much.
The Savennières Les Fougeraies 2011 is made from 100% Chenin Blanc and is a beautiful dry white wine with strong mineral notes from the schist on which it is grown. It has mild, wild, white flower, white peach, mild citrus notes, almonds, butter, and a hint of vanilla on the nose indicating oak. This wine scored 85.5 points on taste and won the Gold Medal at Gilbert & Gaillard 2014.
If you prefer red wines then try the Gourmandise du Gue D'Orger (red) from 2013. It's made from 100% Cabernet Franc and the vines are grown on shale sandstone. This wine has won the gold medal at Gilbert & Gaillard 2015 and has aromas of wild flowers, currants, mild plum and some bitter black fruit.
I learnt a lot from Loic and Damien about the wine making process (Thank You Loic and Damien!) During harvest, vignerons work till 1am and then go back to work at 7am the next day. Its hard work and It's unfortunate that all too often you have sommeliers and 'wine experts' who critique a wine without understanding the immense hard work that goes into making it.
So if you get the chance, visit the Loire valley and make sure to try some of the region's wines. They are elegant, fragrant, and a gourmet's delight!