March 2016: Food Festivals of Delhi Part 2- The Palate Mini
The Palate Mini festival was held between the 12th-14th of February at the Nehru Park, New Delhi. Much smaller than the regular Palate, this festival saw the best of Delhi restaurants, caterers, bakers and home bakers showcasing their fare.
Entry to the Palate Mini was free, and the Festival was sponsored by two major wine companies of India- Fratelli Wines, and Chandon. Meaning that the bar was well stocked, and the choice for wine lovers included the Chandon Brut, the Chandon rose, and a selection of offerings from Fratelli wines. Aside from this the bar was also well equipped with beer and other drinks. It's interesting to note that unlike Ek Bar's offerings at the GIG Carnival, the Bar at Palate Mini emphasized beer and wine (and not hard liquor) – which was a welcome change.
I will say this for the Palate Mini- everything was up and running smoothly when I attended, but it was not …as vibrant as it was last year.
The live music at the event was wonderful. Interestingly, one of the acts performed a beautiful rendition of Amir Khusro's qawall in harmony with contemporary beats and instruments. A bold mix of the new with the old.
There were also two very interesting art installations. The first looked like a giant pink trumpet that was blaring music at the venue.
The second was a bit more unusual and interesting. It was shaped like a large bird house with several inlets for birds, but when you looked inside you saw a slow moving projection of old buildings.
Food wise, among the places I tried included Koyla Kebab (kebab rolls), Chi Asian Cook House (Vietnamese grilled fish), Fat Lulu's (The Soho pizza with pepperoni, parma ham, ground lamb, and Italian sausage), and the Flip Pan (kathal galouti)
 
Koyla Kebab's chicken malai tikka roll was as good as ever and was a welcome first bite at the fest.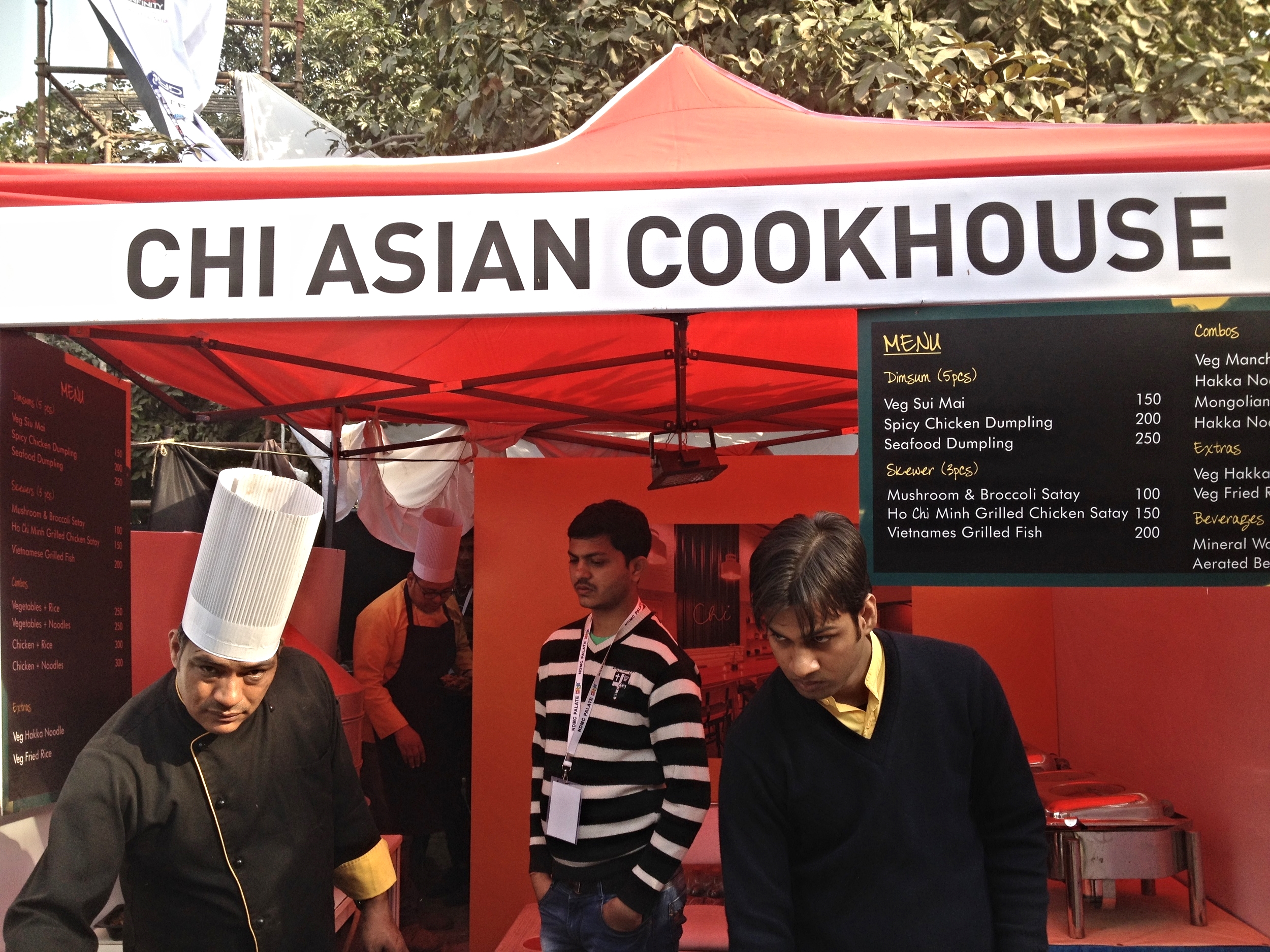 I'm afraid the Chi Asian Cook House's Vietnamese grilled fish was a miss with me. The fish didn't smell particularly appetizing to me however my dining companion absolutely loved it.
Fat Lulu's Soho pizza was gobbled up fast! With a super thin, crispy base, and loaded with meat, it was filling but not heavy. However if you are not used to eating a lot of meat, it would seem heavy to you.
Another interesting discovery was the kathal galouti at the Flip Pan. The galouti itself was smooth, and from its appearance and texture, you wouldn't be able to tell that it was vegetarian. When you tasted it, you didn't miss the meat. I do think however that it could have done with more spice in the galouti mince and perhaps a thick coriander and mint chutney on the side.
Finally....well, no meal is complete without desert, and I rather sheepishly grabbed a waffle with Nutella sauce on a stick for mine. Unfortunately I don't recall who I got this tasty little snack from, but it was a nice way to end the Palate fest adventure.